OMA+D 50th Anniversary Exhibit

An exhibit created to celebrate the 50 years the Office of Minority Affairs and Diversity at the University of Washington has been fighting for diversity on campus.
Client
UW Office of Minority Affairs and Diversity (OMA+D)
Professor
Kristine Matthews
Collaborators
Main concept and visuals:
Angela Piccolo
Christen Miyasato
Monica Niehaus
Samanth Spaeth
Information and
timeline layout:
Dana Golan
Eva Grate
Jazmine Hoyle
Final exhibition:
Studio Matthews




Built Exhibit Images by Ben Benschneider

Brief
In 2018, the Office of Minority Afairs & Diversity (OMA&D) employed students in Kristine Matthew's exhibit design class to create an exhibit celebrating its 50th anniversary. The exhibit needed to honor their legacy of excellent work on behalf of diversity, equity, and inclusion, and celebrate its impact as well as look ahead to imagine the possibilities for the next 50 years.
My Part

I was responsible for 1. Concept Creation for Content Organization.
2. Concept Creation for Physical Structure. 3. Physical Mockups. 4. Interactive Wall.


Content Organization

Our concept celebrates OMA+D's success and historical importance by organizing their long list of victories into five categories to pay homage to the five orginal demands for diversity posed by the Black Student Union on campus that started OMA+D at the University of Washington in 1968.
Physical Design
We chose to house these five categories that OMA+D works to fight against on large construction walls with spray painted X's on them to say, OMA+D is tearing these things down. The backside holds the history of their success which becomes where OMA+D is building up from the rubble. We chose the big walls to capitalize on the current polarizing conversation around diversity in the US in regards to building up walls, and instead, we stand with OMA+D in breaking them down and working to build up a community of inclusion and diversity.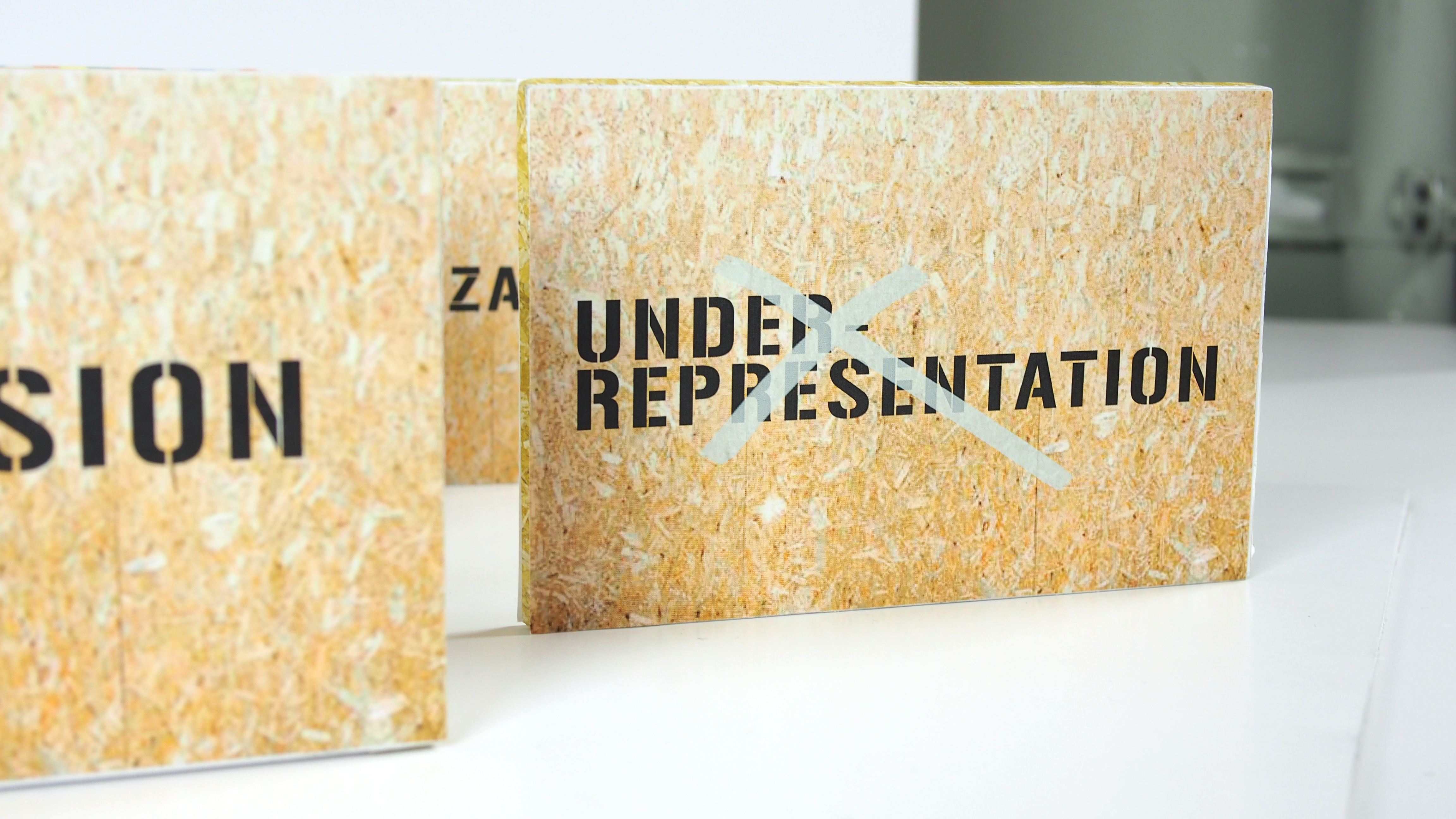 Interactive Wall

The last wall is made completely of cards that allow visitors of the exhibit to help OMA+D tear down these walls by taking away these cards that also provide resources to students for each of the categories. Over time, as cards are taken, the last wall will be physically broken down to visualize everyone's participation in the fight for diversity.
Real Deal

Studio Matthews utilized our group's concept and visual language with another group's layout treatment to create the real installation in the North Lobby of UW's Allen Library on display through June 13th.
Built Exhibit Images by Ben Benschneider
Previous - Next